Latu Miller
I was born on 14 July 1956 in Apia, Samoa where I grew up with my brothers Harry and Maua. On finishing school I left for Auckland, New Zealand in 1974 on an Engineering scholarship. Like most students, I looked for work during the semester breaks to pay for plane tickets home for vacation. My kind of job was, you guessed it, paid band gigs. One such gig was advertised in the paper, requiring a drummer for a resident pub band at a spot called DB Tavern.
After a Saturday afternoon audition I got the job and happily flew home for Christmas. My first band was a 4-piece group called Moods, playing covers at the usual club and social venues and finally scoring a resident gig at the Masonic Tavern, Devonport. On completing my BE degree in 1978 I returned to Samoa with my school sweetheart of the preceding six years, Catherine Miller (yes, same surname!) from Hong Kong, for post-graduate project work.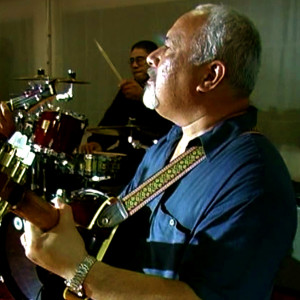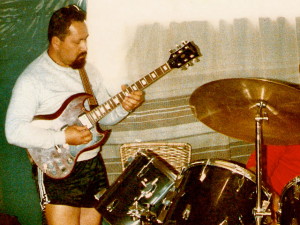 We moved back to Auckland in 1980 where we were married, and then settled. I pursued a career in telecommunications and at the same time formed another covers band called Phase One. We happily "reconnected" with the Masonic Tavern and extended the house band residency there for a little while longer, before moving closer to home to a pub in Avondale called Inner Circle.
I have no published studio recordings to share with you but do feel free to click on the links below to hear a couple of amateur captures on YouTube.
Sundown (Wes Montgomery) 3:49. This is a cover of this Wes Montgomery 12-bar blues, learnt off a vinyl record, on a steel-stringed acoustic guitar, no pick, one Sunday afternoon after Mass, while boarding at Sacred Heart College, Auckland, 1974. This amateur recording with Maua on bass guitar, from about 2006, is one of my first attempts after Maua got me hooked on DAWs.
Europa – Earth's Cry Heaven's Smile (Carlos Santana & Tom Coster) 6:12. This was a mono cassette tape recording of my 4-piece band Phase One, covering this number from Santana as our closing number for the night, during our tenure at the Masonic Tavern, Devonport, Auckland, some time in 1983. Phase One was Dave Evarard and myself on guitars, Dave Masters on bass, and the formidable Steve Ututaonga on drums. Please excuse the slight tape damage at about 1 min 47 sec into the track, and the waiter bringing drinks to the table where the portable radio cassette player recorder was sitting 🙁